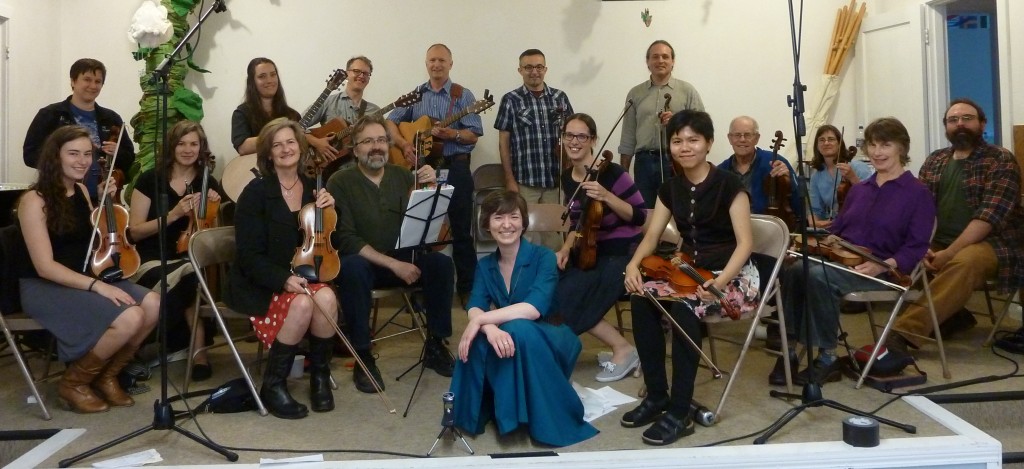 Two Bands, Many Instruments, Room For Everyone!
COVID UPDATE – There will be band this fall, but we're changing things up and moving online to keep everyone safe!
If you've ever wanted to play for dancers but don't know how to get started, come join the Open Old Time Dance Band September 10th! We've been helping folks get started with the basics of dance music since 2014, and while we can't rehearse in person right now, we'll dig into all the dance musician skills we can practice at home though an online class. 
Over the 6 weeks of bi-weekly classes (Sept-Nov) we'll look at how to build medleys, get up to dance speed, and improve tone and intonation. We'll also cover what you need to know to communicate with a caller, choose tunes that suit the dance, and how to recognize different tune types (hoedowns, jigs, reels, waltzes and polkas) and give them the proper emphasis for dancing. Some lessons (like bowing and intonation) will be more fiddle focused, but the band is open to all instruments! Mp3s, sheet music, and supplemental practice materials provided, also a video recording of all classes is available for review for 30 days. 
Class will meet on Skype every other Thursday September 10th through November 19th.  7-7:15 we meet up to chat and help anyone new to Skype get set up, class runs 7:15-8:45. When we were in person class was $25 per session, but I know times are tough for everybody, so don't let that stop you. Come if you want, pay what you can. 
For those that are interested, there will also be opportunities to record tunes with the rest of the band through an app called Acapella, but this won't be required to participate in the rest of the class.  
If you have any questions or would like the class link email Sarah at fiddleteacher@hotmail.com ! 
The Racoon Carnival community contra dance band is also still alive and well, and will be welcoming new members at the start of winter quarter in January 2021 ~ watch this space!