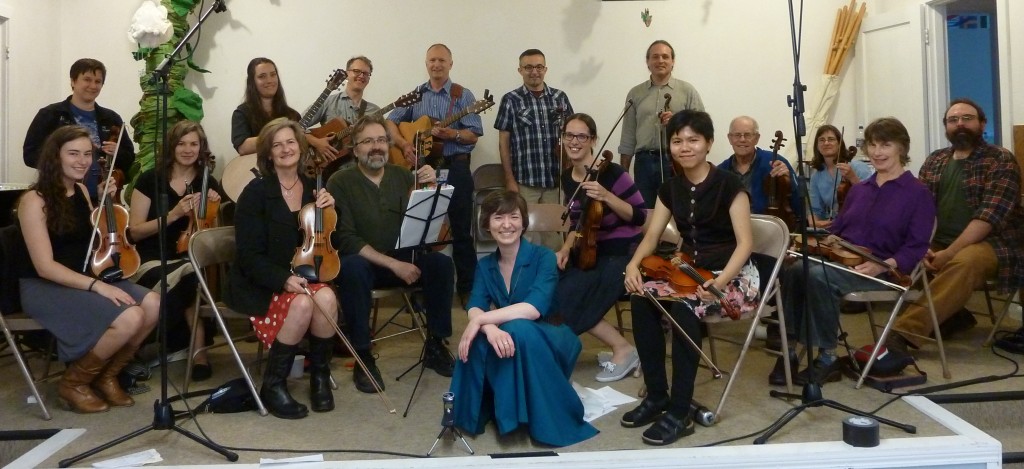 Two Bands, Many Instruments, Room For Everyone!
If you've ever wanted to play for dancers and spend your Thursdays with some really fun people, come join the Open Old Time Dance Band! We meet every other Thursday in Seattle (at the Phinney Ridge Neighborhood Center), January-May and September-November, 7:30-9:30, $25/class. Most of our class time is spent learning how to choose tunes for a medley, match them to dances, communicate with the caller and keep solid rhythm with your band mates at dance tempo, so this class is best suited for intermediate to advanced players able to learn the tunes on their own (recordings and sheet music provided). All your hard work pays off when you're playing for your friends and family at our twice a year community dance! Want to see the band in action? Click here.
Or, if you've already played for dancers and want to try your hand at fun arrangements in a big dance band, join us on the alternating Thursday with The Raccoon Carnival Band (Formerly Seattle Collaborative Contra Band).
All acoustic melody and backup instruments are welcome! Here's some of what we do in The Raccoon Carnival. Questions? Want advance access to the tune list? Email Sarah at fiddleteacher@hotmail.com
PLEASE NOTE: This is an open band and you are more than welcome to join at any time, but the Winter/Spring session of the dance band class runs January-May, Fall runs September-November, so if you join us in March or April there will be a few things you've missed, but we'll be happy to help catch you up as much as possible : )